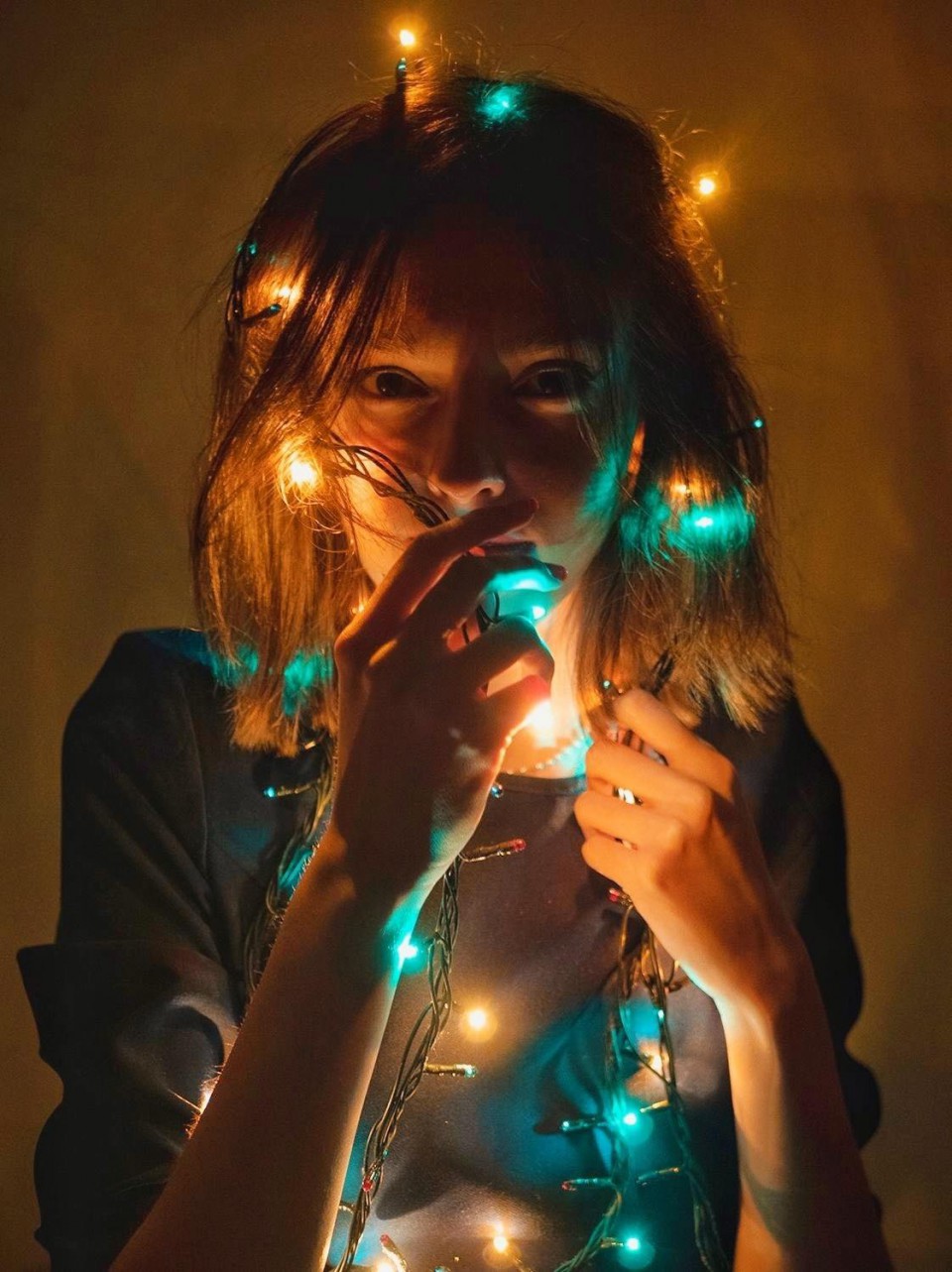 I ako veoma mlada, Anđela ističe da ipak od malih nogu gaji ogromnu ljubav prema muzici, te da i ako smatra da je to kliše koji umjetnici često koriste, ipak ne može da ga zaobiđe,

Bori se za mene

Na početku, sa jednostavnim "hej"
sjela sam za našu klupu okrenuvši stranu tad nepoznatog poglavlja
sa morem očekivanja i srcem punim tečnih zalazaka sunca

Iako sam se opirala, nisam mogla da odolim gledajući kako
tankim prstima prolaziš kroz kosu i topiš me u pogledu boje Tare
dok pričaš a sa usana ti se slivaju riječi baš kao muzika
Nikad nije bilo dovoljno riječi da to opišu sve do jednog dana
kada sam u mraku svoje sobe napisala svoju prvu
ali zasigurno ne i poslednju pjesmu o tebi
jer mislim da ćeš ti kroz njih živjeti malo duže od svih nas

Kao efekat leptira, svaka sitnica jednom pređe u nešto veće
Tako je moja omiljena boja iz cvjetne roze prešla u boju tvojih očiju.

Moje ime mi više nije bilo bitno koliko tvoje
i ona koje sam smišljala za anđele koje bih odgajala sa tobom.
Pričala sam ti o svojoj prošlosti ubijeđena da si moja budućnost
i počela sam biti željna dodira i otisaka tvojih prstiju
tamo gdje ih ni sama ne bih mogla vidjeti.

Oktobra te godine, jesenje kiše su na moje srce lile oštrice,
bura je nosila poslednju nadu da će se kapetan mog broda vratiti
a gledajući tu oluju sa litice razmišljala sam da li bi vrijedilo da baš kao i snove, ispratim svoje strahove do samog kraja i niže
I tako je na svim gradskim novinama stajao boldirani naslov
"U stravičnoj aferi nastradao je jedan mladi par"
Sve zbog jedne koverte ispunjenom očigledno tuđim rukopisom.

Lutajući, nakon skoro milion pjesama o tebi
znala sam da sam uspjela kada mi je rečeno da,
kad bi riječi bile oružje, čitav svijet bi se potčinio meni.
Provela sam godine pokušavajući da te izgradim u onog pravog
dok nisam shvatila da ljubav tako jednostavno ne funkcioniše.
Na kraju, bez i onog najtišeg "zbogom", kao vojnik sa ratišta
vratila sam se kući slomljenog srca i samo polovinom svoje težine.

A, da ostane među nama,
jel ti ponekad žao što se nisi borio
za jedinu ispravnu stvar koju si poznavao?

"Počela sam da sviram gitaru 2012. godine, prvu pjesmu sam napisala 2016. još kao mala sam voljela da pjevam i uživala sam slušajući sve izvođače koje bi mi roditelji predstavili. Prvenstveno sam htjela samo da budem vokal ali sam kasnije, u navedeno doba, shvatila da imam tu vrlo lijepu sposobnost da svoje misli pretočim u tekst i da sam poprilično nadarena za još jednu granu umjetnosti tako da se tu pojavila još jedna ambicija. Oduvijek sam bila fascinirana snagom muzike i koliko razumijevanja se može naći u nečijim stihovima. Interesantno je kada slušate neku pjesmu, analizirate tekst i pomislite "Ovako se isto i ja osjećam ali nikada nisam znala/znao da se izrazim na ovakav način". Zato se ljudi oslanjaju na muziku, poeziju i knjige jer im daje određeni komfor i ne misle da su emocije koje imaju umišljanja ili potpuna ludost", priča Anđela za portal RTV Budva.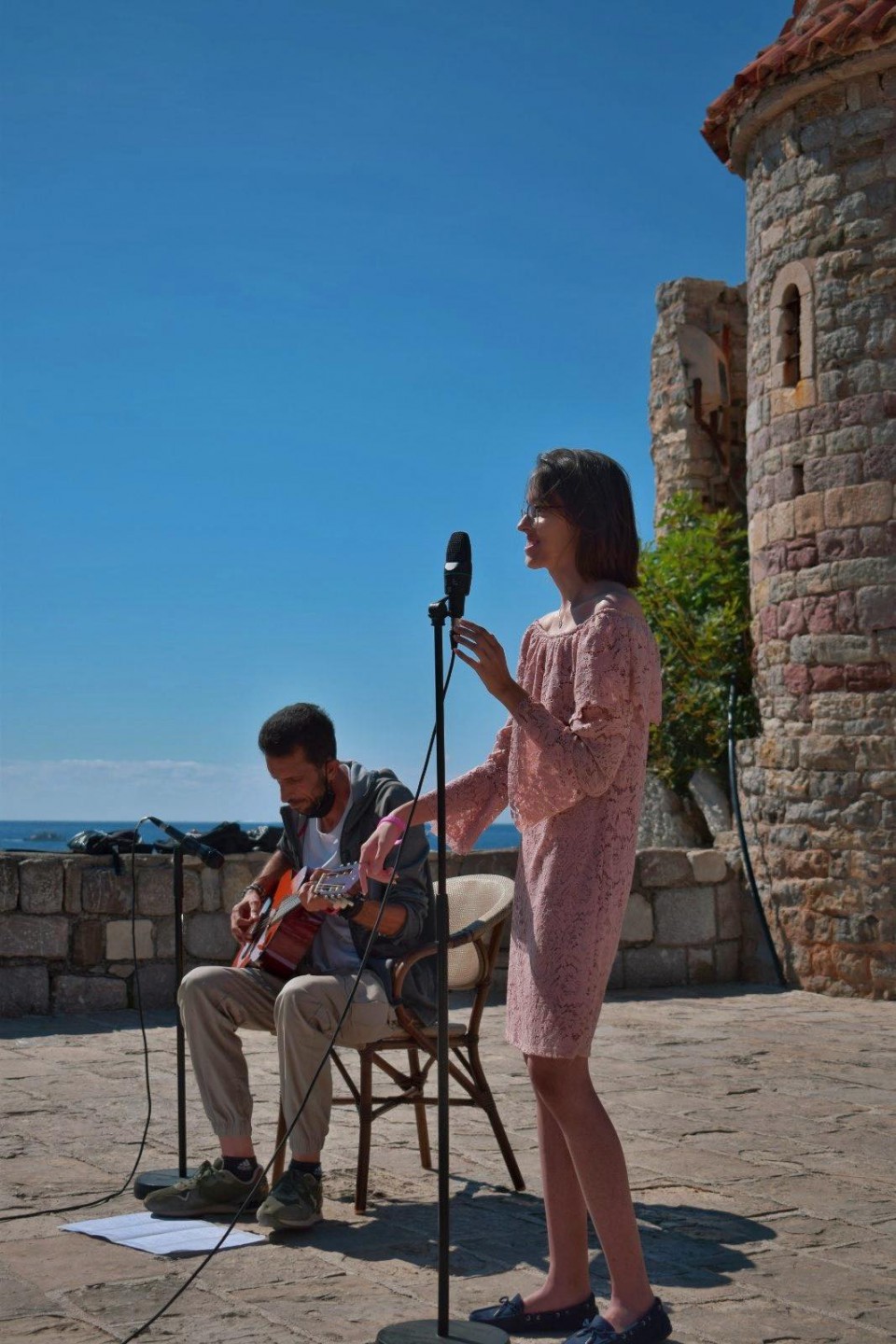 Inspiraciju najčešće pronalazi u ljudima i događajima iz svog, ali i njihovog života.

"Pišem o raznim životnim događajima, ljudima koje sam upoznala, onima koje volim, sebi i svojim karakteristikama, izmišljenim likovima iz svoje glave, i tako dalje. Pored toga takođe pišem pjesme o životima drugih ljudi iz njihovog ugla gledanja jer volim da moje pjesme imaju formu priče i detaljno opisuju neki pojam kako bih ga što bolje dočarala i približila onima koji ih čitaju", ističe ova mlada umjetnica.

Spontanost kao vodilja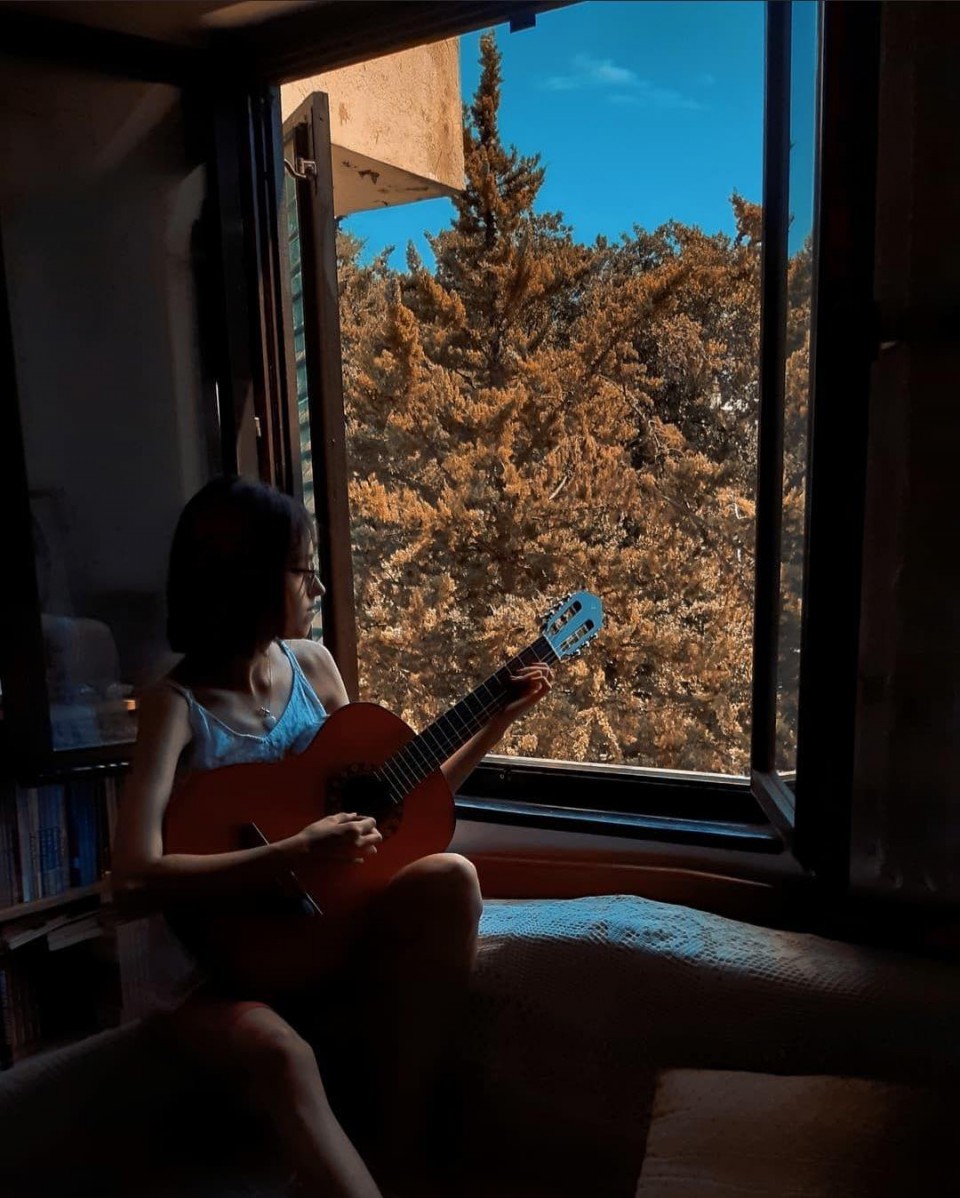 "Sve nastaje veoma spontano. Ukoliko je u pitanju muzika, prvo mi na pamet padne neki ritam, melodija pa onda idu riječi. Desi se da idem ulicom i vidim neku riječ na bilbordu koju u svojoj glavi otpjevam na određeni način i onda moram da je zapišem u bilješkama (koja je prepuna nasumičnih stihova, citata itd) ili otpjevam u glasovnim porukama da je čuvam "za svaki slučaj". Ponekad prvo izmislim naslov pjesme pa oko nje gradim ostatak teksta a u drugom slučaju prvo pišem tekst i za naslov izaberem frazu koja se najčešće ponavlja. Što se poezije tiče gledam da se ne rimuje tako često već je pišem kao sastav i raspoređujem je u stihove, a ne tipične rečenice", otkriva nam ona.

Yellow person - The poem

I poured my heart into his hands without pouring a drink.
Wrong one's hand prints disappeared without a trace
as he put me in his arms tightly,
and after begging them to do it desperately,
he was the first one to ever fight for me.
He hugs me like an envelope hugs a piece of paper
he's always the last one to break a clasp,
because he never knows how long I need it for.
He talks to me as if we've known each other since we were babies,
endless conversations without 'i know I might sound crazy's.
He listens to me like I listen to Taylor Swift
with the biggest patience, confrontation and purity.

He likes writing about wars,
because he was in many with his own self
He doesn't like affection,
because he never got it properly from anyone else.
And he's scared to love me, it's written over his face
thinking that alleged danger within him might come in tidal waves,
to waste my honor and make me afraid, but here I am.
Putting my heart on the line for someone again,
ready to give him all desires from his heart and head
and even though he wasn't my first love, I intend him to be my last.

He picked me up from the dusty ground,
like an old jacket everyone had grown out,
then put me on and said I was his most admired
I never said it out loud but I love him.
I love him when he's a calm ocean breeze,
and when he's a devastated summer storm
I love him when he's all bubbly and happy,
and when he feels sad and low
I love him when he's strong and protective,
and when he just needs a hug when nobody else sees.
I'd love him even when he:
doesn't wake up with much love for himself,
feels so drained by the words from one of his friends,
when his lessons turn into weapons and point to his worst pain.
I do hope when I'm on the pedestal
I'll see his face in the big crowd,
he'd sing the lines with me which we both know by heart,
and thousands will chant what I wrote in pure secrecy
an echo of: Every fiber of you will forever be loved by me

I hope he doesn't have someone waiting when the last class ends,
I hope he doesn't have someone love him better than I can,
I hope he never becomes a stranger
whose laugh I could recognize anywhere
cause that would be the heartbreak time could never mend.

If he left, the universe would self combust
Time would stop in that moment on all world's clocks,
My hand would be limp, heartbeat steadied,
Sirens would scream and every single wall in my town would hear,
Our lullabies would cry unstoppable tears,
Until without a warning, my breath would cease

I've learned that love is the loneliest place when you fall alone
but his unrequited adoration made me feel at home
We don't need a kid or a ring in gold,
forever without them could be the sweetest con.
But all those fantasies could burn out easily
No matter the tender there's not enough peace living in me.
When I'm mad, my words could shoot to kill,
I do try my best, I always will.

Years ago I thought I could never fall for someone next.
I was scared of people petting and praising me
cause their nails and words might stab like a dagger again.
Younger men I lost after being smitten with left me hopeless
Waded out into the dark, bathed in my brokenness.
He was the only one who stayed while I was lost in the echoes,
who picked up my cracked bones and disintegrated clothes
from the floors that once recalled my highest heels ring.
Standing broad-shouldered next to me
was a love that was really something,
not just the idea of something.
and that actually made me perceive
It's always you, always have been.

Većina Anđelinih pjesama je otkrila nam je autobiografska, pa joj je uglavnom poznata svaka emocija koju nam predstavlja.

"S obzirom da je većina mojih pjesama autobiografska veoma je bitno da imam predstavu o tome što pišem. Oduvijek mi je bilo najbitnije da svaku riječ koju napišem bude istinita, sa razumijevanjem napisana i da dolazi iz srca jer, iako to možda djeluje lako jer svi poznajemo svoje živote i ono što nam se događa, ponekad nema dovoljno i nema pravih riječi kojim bi se sve to opisalo. Zbog toga mislim da pjesme ne može da piše svako jer za to ne trebaju samo papir i olovka, već duša iz koje sve potiče", kazala je.

Umjetnost u korjenima porodice Vilus i blizak susret poezije i fotografije

"Pošto mi je jedan roditelj pisac, a drugi fotograf oboje su me inspirisali da se oprobam u oba pravca. Iako u prvi mah ne djeluje tako, fotografija i poezija u većini slučajeva mogu biti refleksija jedno drugog jer oboje, i vizuelno i riječima, dočaravaju određeni prizor", istakla je.

Anđela zajedno sa tata Slavenom, kuje planove za svoju budućnost.

"Imam dosta planova ali mi je naravno debi album i ostatak muzičnih projekata prioritet. Želim da istražujem i pronalazim što više različitih žanrova i izvođača kako bih brže napredovala i obogatila način pisanja i kreativni proces. Trenutno radim na svojoj prvoj pjesmi koja bi trebala da izađe uskoro čiju muziku i aranžman radi moj tata sa kojim ću raditi i svaku narednu", otkrila je za naš portal.

Tejlor Svift i Mjakl Džeksnon kao vječita inspiracija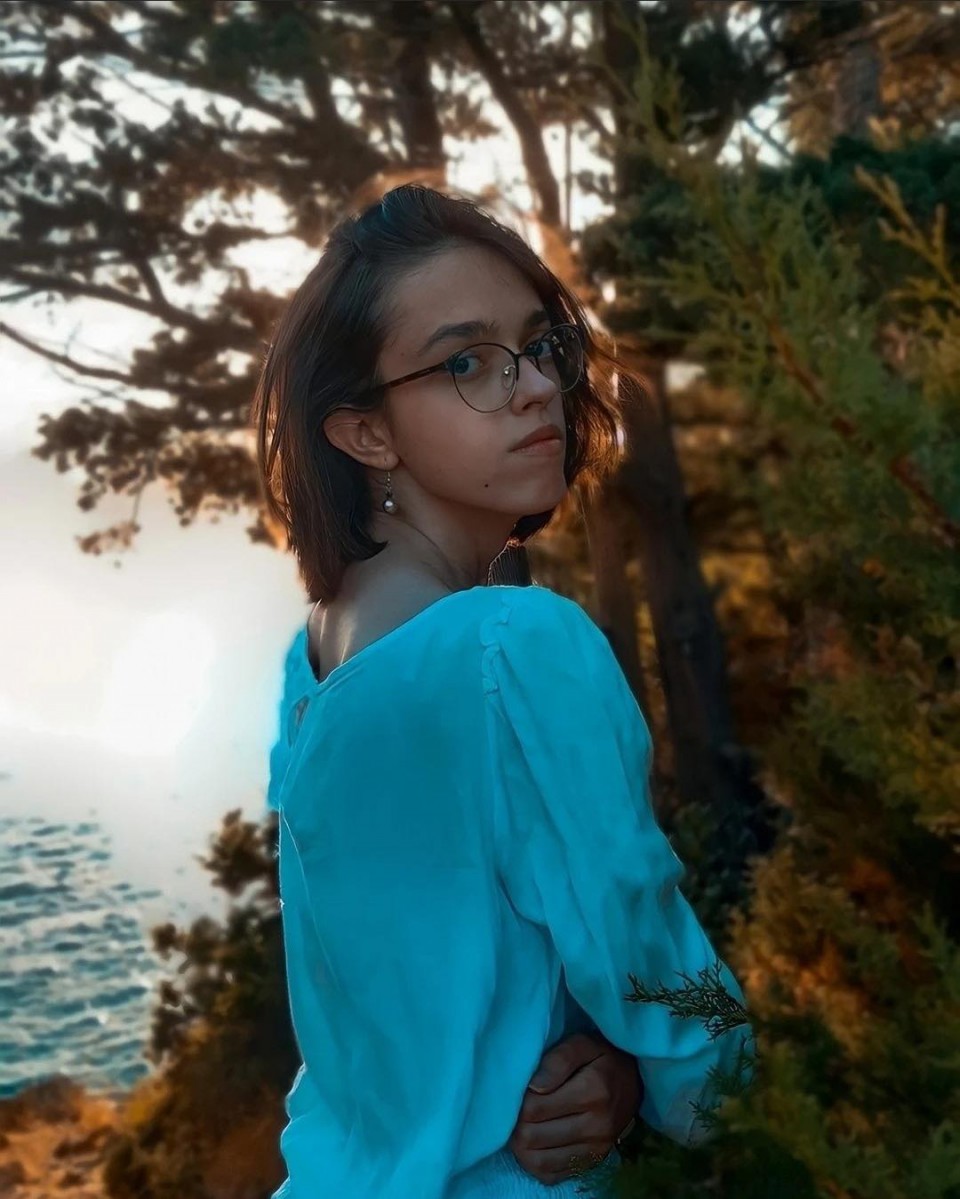 "Jedna od mojih najvećih inspiracija je definitivno Tejlor Svift i smatram da je jedan od najboljih tekstopisaca novije generacije. Način na koji prepričava događaje iz svog i tuđeg života, izmišlja živote likova iz svoje glave i na najbolji mogući način nam dočarava kako vidi svijet svojim očima. Najveća želja mi je da je upoznam, popričamo o životu, stvaranju, ljubavi i mnogim drugim temama ali bih bila počastvovana i presrećna kad bismo se jednostavno našle u jednoj prostoriji punoj ljudi. Već osam godina slušam sve njene projekte i iako je prošlo toliko godina od kad sam čula "Love story" prvi put, njen svaki novi rad me ostavi bez teksta. Pored nje, veliki sam fan Majkl Džeksona mada smatram da o njemu ne moram da govorim puno jer svi znamo da je bio i ostao maestro. Od kada sam prvi put pogledala njegov nastup na malom ekranu bila sam očarana glasom, pokretima i strašću koju donosi i iznosi sa scene. Bio je nevjerovatan umjetnik i mnogo bitnije, barem koliko je to bilo izneseno u javnosti, još bolji čovjek", priča nam Anđela sa osmijehom.

Slobodno vrijeme najviše voli da provodi sa porodicom i prijateljima, da putuje, piše dnevnik, čita, sluša muziku i svira gitaru. Otkriva nam i to da trenutno ne razmišlja o zbirci poezije, ali ni o izložbi fotgrafija, ali ipak cijeli život je pred njom.

"Trenutno mi ni jedno ni drugo njesu u planu iako bih voljela da imam zbirku poezije u nekoj daljoj budućnosti. Fotografija mi je samo hobi i ne shvatam je toliko ozbiljno da bih se predstavila kao profesionalni fotograf, taj posao ipak ostavljam tati", zaključila je Anđela u razgovoru za naš portal.

Erviceman
Holding her stomach like it's by the end of the string
Longing stares that cry out "Do you really have to leave?"
That is my biggest wish but, good wives can only dream
Before departing, I kiss where her hand meets her body
I'm scared to know if the last scrap of me
will forever be taken away from him

Military truck is full of people and their anxieties
Some cry even after being told to man up
but no amount of courage could make them bigger than the fear
Crumpled up pictures of lovers at home
live in the pockets cut from family portraits
but no amount of putting it near your heart
could make you feel less alone

I never liked kids and their playful screams
but it killed me inside as I saw them run by me
Outside should be a safe place without thinking
where the best place to hide might be
We get to the spot early that night
barren land under and amber skies above my head
Already tired with a mouth full of sour taste
I readily follow the line that leads to the billet

I went to sleep for the first time scared
kept deliberating about a change that I might make
Moonlight on my pillow highlighting the print of her face
only thing I'm hoping for is to see her again
Today is a predetermined state or end
past the gore and bruises, exiled cries and curses
Each one of these people think without knowing what truth is
"He'll kill me if I don't kill him" and then shoot a bullet

Big digits never scared me until we were outnumbered
all the shots that kissed my skin, slits and shouts
Crestfallen on the landing, my head hits the wet mud
those are some things people just can't speak about
cause losing the battle hurt more than losing my life

My helmet on the recks of my hometown's depository
Young blood will be stunned and see a hero in me
Inner wounds as visible as my picture in books of history
I'm frozen in time wondering how the fresh air in my lungs feels
Even though I wasn't there enough to see
bigger men than me are the main reason
that ground is still yours beneath your feet

Napisali: Anđela Vilus I Nenad Stojilković

Nama je ostalo samo da joj poželimo puno uspjeha u daljem radu i da nastavi da njeguje svoje mnogobrojne talente, a sigurni smo da će se za Anđelu Vilus tek čuti, jer vrijeme ove budvanske zvjezdice tek dolazi.

Link do Anđeline stranice

D.P.